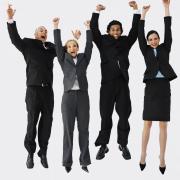 When conducting business, I have adopted values and ethical codes that guide my interactions with employees and clients. I am a strong individual driven by core values that help set a benchmark to lead people, provide a foundation to make tough decisions, and brings simplicity and clarity to the "people" side of the company.
Below are some key presentations that I have created, edited & facilitated.

If you are having problems opening a pdf file, you may need to download the most current version of Adobe Reader.
Change Management:
Communication:
Employee Newsletter (PowerPoint pdf file)
Goals:
Compensation:
Bonuses Reminder (PowerPoint pdf file)
Annual Bonus Award (PowerPoint pdf file)
Recognition Program (PowerPoint pdf file)
Payroll:
Health & Safety:
Health & Safety Meeting (PowerPoint pdf file)
Fall Protection (PowerPoint pdf file)
Developing a Safety Program (PowerPoint pdf file)
Human Resources:
Performance Management:
Policy & Procedure Development:
Training & Competency Development:
Miscellaneous:
Talent is Never Enough: A summary of the book by John C. Maxwell (PowerPoint pdf file)