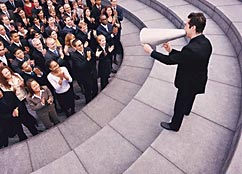 A successful Human Resources Executive and motivational team leader with 10 years of senior management and leadership competencies with the ability to positively impact the health and success of a business.
Skills set include business logic, quality values, vision, competencies development, entrepreneurship, integrity, customer/client commitment, high energy and advanced computer/e-commerce.
Outstanding expertise in:
Change management,

Organizational effectiveness,

Competency development,

Employee and industrial relations skills.
TALENT...ENERGY...JUDGMENT...BUSINESS RESULTS...FOCUSED COMMITMENT...and SUCCESS!
I am a technically competent strategic business leader with a wide breadth of professional knowledge and experience; the ability to recognize and act upon opportunity.... with a unique blend of strategic thinking and hands-on excellence!
Please consider this High Tech, and Business Professional for your Human Resources Position!
My personal philosophy for business success is that all business partners/customers/employees need to be offered quality products and services at profitable prices and must be serviced accurately the first time in a hazard free and safe environment and every time by professionals who really care...so that every business transaction ends in a satisfied customer/client and/or employee!
Human Resources: The right person, in the right job, doing the right things = business profits & success:
I believe that HR is the corporate glue which bonds the employees, management and customers together to achieve corporate and strategic goals.

Because human capital is now recognized as a key critical force behind business success, HR must regularly demonstrate to management that HR is contributing its share of business value by balancing operational and administrative contributions with positive strategic and bottom line input and results.
I demonstrate ability to assimilate into new situations quickly with a minimal learning curve. I have an extensive background in HR, Health, Safety & Environment, counselling and business computer applications, information technology systems, industrial/employee relations, government legislation, compensation, incentive/bonus and benefits, and organizational design skills.
I work well with employees at all levels to determine needs and derive solutions that all parties can live with, support, and that will stimulate the growth and evolution of the organization.
It is important for me to identify prospective employers who value and view human resource functions as a strategic business partner in the decision making process at the executive planning level.